Our UUK Boardroom is the perfect room for those important meetings, training courses and seminars.  With the flexibility to be set up in a style to suit your event, the room benefits from dual aspect windows overlooking Tavistock Square. 
The room comes with LCD projector, screen, Wi-Fi and flipchart included in the hire price.  The room is fitted with Logitech Rally Plus video conference systems allowing everyone in your meeting to be seen and heard by anyone joining the room remotely (additional charges apply).  Our equipment is compatible with all major video conference and meetings platforms such as Zoom or Microsoft Teams.
Ergonomically designed furniture, air conditioning and catering available in the room or in the Tower Room next door ensures comfort for all attendees no matter how long your meeting lasts.  The room also works perfectly as a workshop or breakout space for larger meetings in our Woburn Hall or Tavistock Room.
The room is 13.5 x 5.5 (LxW) metres in size. Click here for a list of the AV services available.
Room Layouts
field_capacity_u_shape
U-shape
Ideal for open debate
Capacity: 26
field_capacity_cabaret
Cabaret
Great for colaborative working
Capacity: 32
field_capacity_classroom
Classroom
For teaching and presentation
Capacity: 30
field_capacity_boardroom
Boardroom
Ideal for meetings and workshops
Capacity: 32
field_capacity_theatre
Theatre
Ideal for large presentations and speeches
Capacity: 49
field_capacity_reception
Reception
For networking, launches and celebrations
Capacity: 80
Floor Plans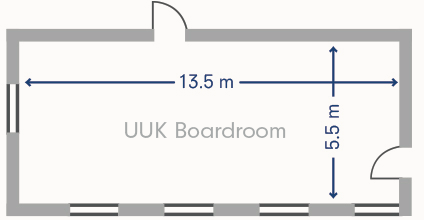 The furniture arrangements detailed are the standard layouts. They may be varied according to your needs but must comply with Health and Safety Regulations.
The Bookings Team are available to assist with planning these arrangements.