Our Brunswick Room is located on the Mezzanine floor just one flight of stairs above our Woburn Hall and can seat up to 18 boardroom style or 30 theatre style.  The room comes with natural daylight and secondary glazing ensuring a pleasant and peaceful environment for meetings and presentations.    
This popular room comes with 72" LCD screen, Wif-Fi and flipchart included in the hire price. The room is equipped with Logitech Rally Plus video conference systems allowing everyone in your meeting to be seen and heard by anyone joining the room remotely.  Our equipment is compatible with all major video conference and meetings platforms such as Zoom or Microsoft Teams. The room is 6.8 x 5.8 (LxW) in size.
A range of catering and AV services can be provided in the room.
Room Layouts
field_capacity_u_shape
U-shape
Ideal for open debate
NA
field_capacity_cabaret
Cabaret
Great for colaborative working
NA
field_capacity_classroom
Classroom
For teaching and presentation
Capacity: 12
field_capacity_boardroom
Boardroom
Ideal for meetings and workshops
Capacity: 18
field_capacity_theatre
Theatre
Ideal for large presentations and speeches
Capacity: 29
field_capacity_reception
Reception
For networking, launches and celebrations
NA
Floor Plans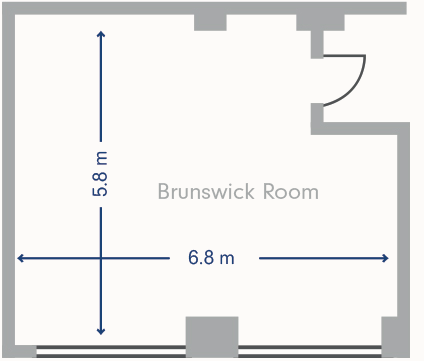 The Bookings Team are available to assist with planning these arrangements.The furniture arrangements detailed are the standard layouts. They may be varied according to your needs but must comply with Health and Safety Regulations.